1. Mouth
Digestion begins in the mouth
as the teeth, tongue, and
salivary glands work in concert
to pulverize food and break
down carbohydrates into a
semi-liquid called chyme.

2. Throat (pharnyx)
Once the chyme leaves the
mouth, it enters a funnel-like
tube called the throat and
travels on to the esophagus.

3. Esophagus
The esophagus is a muscular
tube that connects the throat
and stomach. As chyme
passes into the stomach a
small valve closes the
esophagus to trap food in the
stomach.

4. Stomach
The stomach is a small,
muscular sac about the size of
two fists that acts as a holding
tank for food while it is further
digested. It is an acid
environment where hydrochloric

acid and enzymes work to
process food. Proteins are
digested into amino acids in
the stomach.

5. Small Intestine
The small intestine, being about
one inch in diameter and over
ten feet long, takes up most of
the space in the abdomen. It is
coiled like a hose and the
inside surface is full of many
ridges and folds which
maximize the digestion of food
and absorption of nutrients. It
neutralizes stomach acid with
bicarbonate, rendering it an
alkaline environment. Ninety
per cent of the nutrients found
in the food are extracted by
hair-like receptors called villi
while passing through the small
intestine.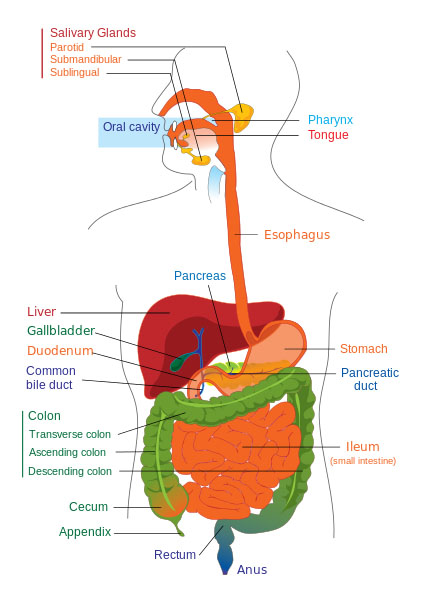 6. Liver and Gallbladder
The liver aids in digestion by
producing bile and secreting it
into the small intestine. Bile
salts emulsify fats to aid in
digestion.The gallbladder stores
and recycles excess bile
from the small intestine so that it
can be reused for future
digestion. The liver also further
reduces chyme and disperses
nutrients to body cells.

7. Pancreas
The pancreas is a small,
endocrine gland that is
conveniently located near the
stomach. It secretes digestive
enzymes into the small
intestine to complete the natural,
bio-chemical digestion of food.
8. Large Intestine
The large intestine is a strong,
muscular tube 2.5" in diameter
and about five feet long. It
absorbs water and contains
many friendly bacteria that aid in
breaking down food and
separating nutrients from
wastes. It also breaks down
proteins and synthesizes
vitamins K and B which, in turn,
produces gases such as
hydrogen sulfide, methane, and
carbon dioxide. Villi in the large
intestine absorb nutrients which
are sent to body cells.
Undigested food is separated
as waste and exits as feces
from the large intestine through
the anal canal. Feces is sixty
five per cent water, twenty
seven per cent bacteria, and
eight per cent fiber.